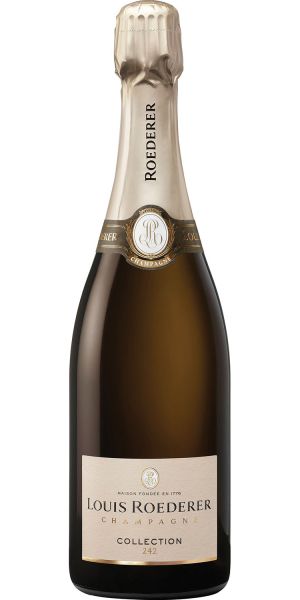 NV Roederer, Collection, 242
94 Points - James Suckling: Aromas of cooked apple, bread dough and lemon tart follow through to a full body with round, delicious fruit and a rich, flavorful finish. Yet, it remains tight and fine with lovely, compressed bubbles. New energy and freshness. Medium-to full-bodied with layers of fruit and vivid intensity. 42% chardonnay, 36% pinot noir and 22% pinot meunier. 8 grams dosage. Four years on the less. A new-format non-vintage that designates the year of the 242nd harvest, 2017, plus reserve wine of 2009, 2011, 2013, 2014, 2015 and 2016. Drink or hold.
93+ Points - Robert Parker's Wine Advocate:  Roederer's Brut Premier was created in the 1980's to prove to consumers that we could deliver consistent quality with a blend that compensated for less than perfectly ripe vintages," explains Jean-Baptiste Lecaillon. "We were blending in pursuit of maturity, of ripeness. The concept behind the Brut Collection is the opposite: we're looking for freshness—and we are embracing singularity, something we're emphasizing by enumerating each year's blend." This project has been in the making since 2012, when Lecaillon set aside 21,000 liters of wine to constitute a perpetual reserve aged in large tanks without malolactic fermentation. Sourcing has evolved too: less must is coming from cooperatives, and only vineyards cultivated without the use of herbicides inform the blend. A dedicated team oversees all this, visiting every grower three times per year. And vinification is parcel by parcel to deliver a maximum of blending components.